Ombre Tassel Pillow - Emmadime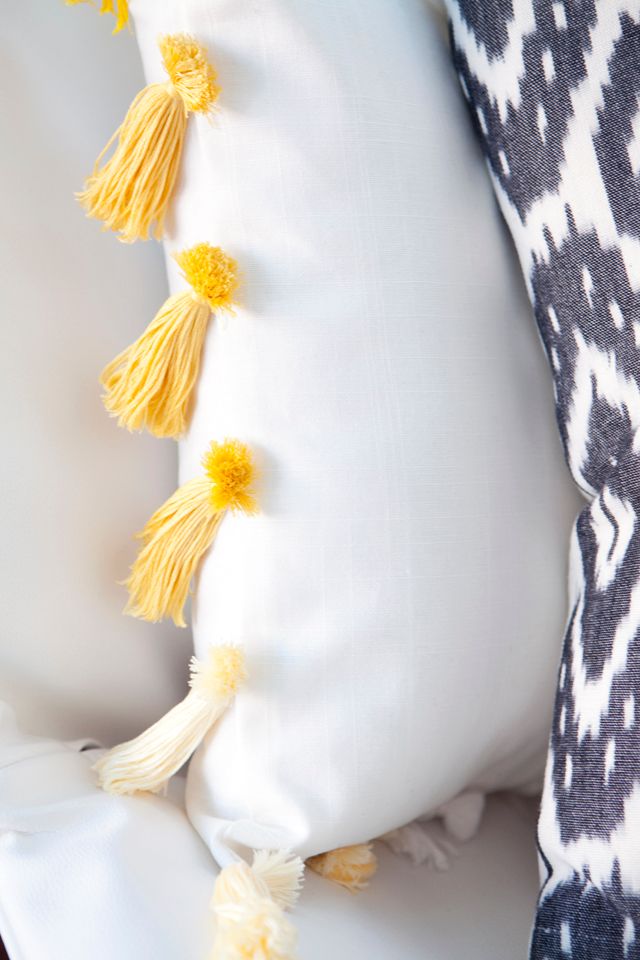 Happy Friday everyone! I have another wonderful guest post for you today. My sweet friend
Emma
kindly offered to share her ombre tassel pillow project! Two great home projects in one week? Sweet! I can't wait to give this one a try.
Ombre Tasseled Pillow: 
Emma here! I'm so excited to be a guest on Meredith's wonderful blog. We first met a couple of years ago in Dallas, TX and have remained crafting friends ever since. She is such an inspiration to me! 
This is a project I have been wanting to do for a long time - on a pillow and in scarf form. I decided to go with the pillow first because my apartment needed some sprucing up. Throwing some color on your bed or couch is such a simple solution to a dull room. 
Materials: 
+ Embroidery thread  ( one thread bundle = 1 tassel ) 
+ Scissors
+ Sewing thread ( to match your pillow ) 
+ Sewing needle 
If you want to make your own pillow - 
+ Pillow Insert 
+ Fabric ( color of your choice ) 
+ Sewing machine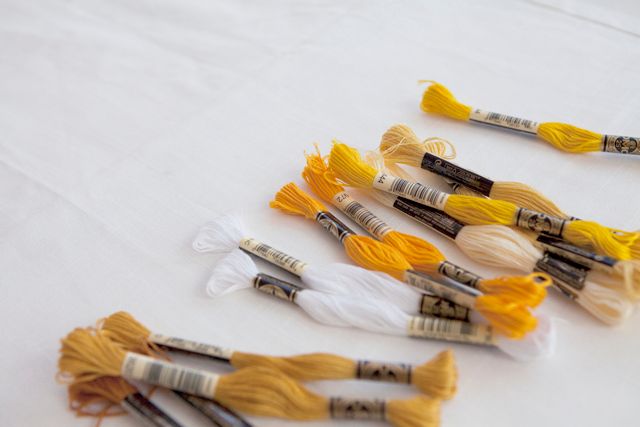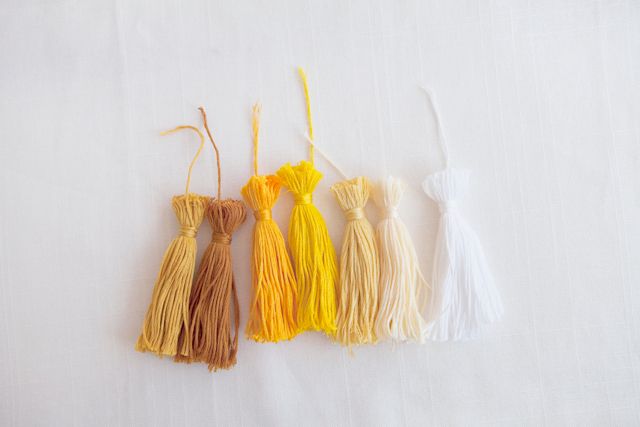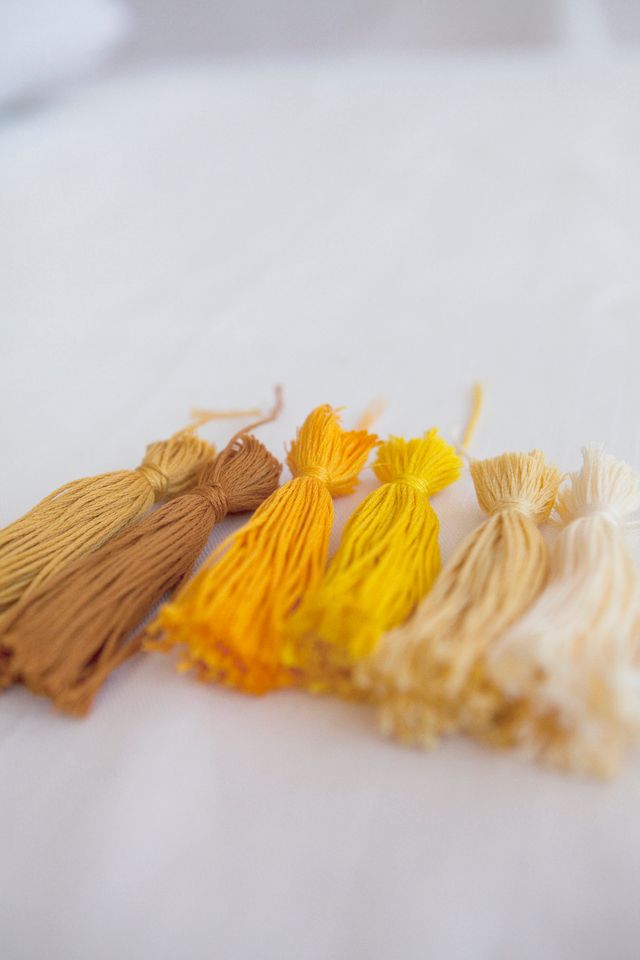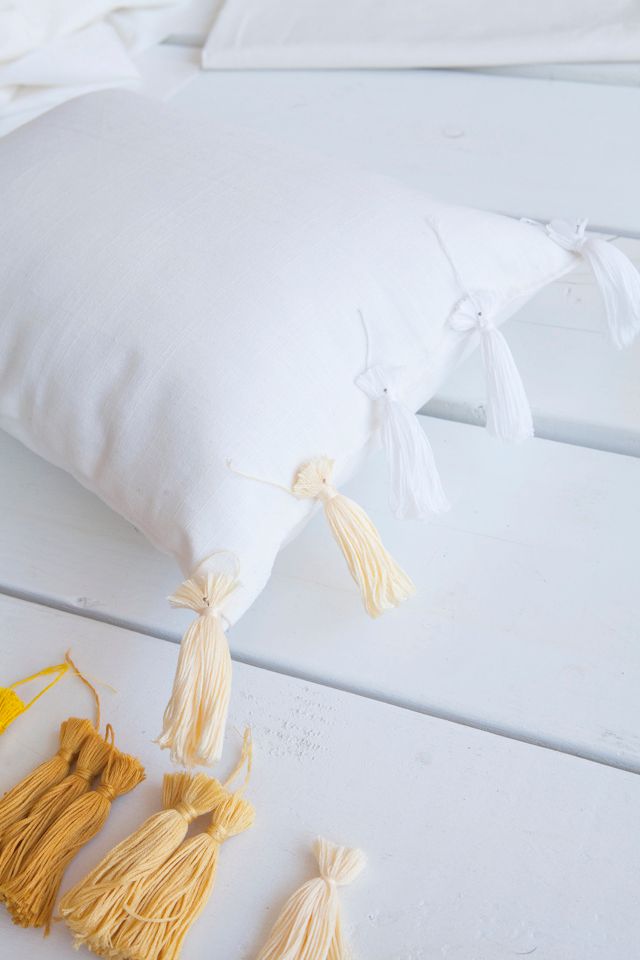 I decided to make my pillowcase because I had some extra linen from a previous project that needed to be used. The final dimensions are 12in x 16in - feel free to go as large or as small as you like! Just remember that the size of the pillow dictates how many tassels you'll have to make to completely cover it's edge. I won't go into great detail on how to make the case, as I don't want that to be the focus of the project. There are tons of easy tutorials online that can walk you through it if you choose to partake in making one. 
Now, onto the fun part - the ombre tassels! 
I'm sure many of you have worked with embroidery thread, but if you haven't, you're in for a colorful treat. There is an endless amount of options when it comes to what color palette you want to use. I went with yellow because 01. It is my favorite color right now and 02. I just put some artwork up that has lots of yellow in it - I wanted to bring more of that color into the room. As you can see, I was able to pick out a nice range of yellows. I'm sure everyone at Michaels hated me because I took up the whole isle when selecting these, ha. I swear I must of had every single shade of yellow laid out on the floor as I made my final decision. oops! 
So how much embroidery thread do you need to buy?? 
Before I went to the store, I knew what size my pillow was and how far apart I planned to space my tassels ( mine are spaced about 2 inches apart, give or take! ). Once you know this, you can buy accordingly. One thread bundle = 1 tassel. 
I tried to keep this process as simple as possible, since I knew I was going to be making a lot of them. First, I carefully took off the paper wraps that the thread comes packaged in - I say carefully because you want this bundle to be as in tact and untangled as possible. Then, cut off a piece of thread that is about 7-8 inches long - you'll use this in the last step to tie your tassel together! Now, cut the entire bundle in half ( I just eye ball it ). The ends of the bundle are still connected and looped - take your scissors and break those loops so that all of your threads are now individual and separate from each other. Combine all of your threads to make the body of the tassel. Use your 7-8 inch piece of thread to tie them together. It's up to you how large you would like the head of the tassel to be and how many times you'd like to wrap the thread around the body to create a nice seal. See my final tassels as a reference. I took my scissors and trimmed up the ends to polish them off a bit. 
Note: There are a couple of different ways to make tassels - you are more than welcome to take control of the project and do some research on this! See if there is another solution that you like better!!? 
Attaching the tassels to your pillow: 
I am going to let you guys be the experts here, because I just sort of went for it!! I'm sure we all have different sewing methods that we like to indulge in. I used the wrapped & tied area of the tassel to connect them to the pillow because it is the only solid space that will hold a thread securely. Once you've figured out how you're going to sew them on, just sew-sew-sew until you've gone all the way around the edge - and Voila!!
p.s. I'd love to see the finished photos if you make one!!

Thanks so much for sharing Emma! I am definitely making some tassel pillows soon.