Weekend Plans 7/26 - 7/28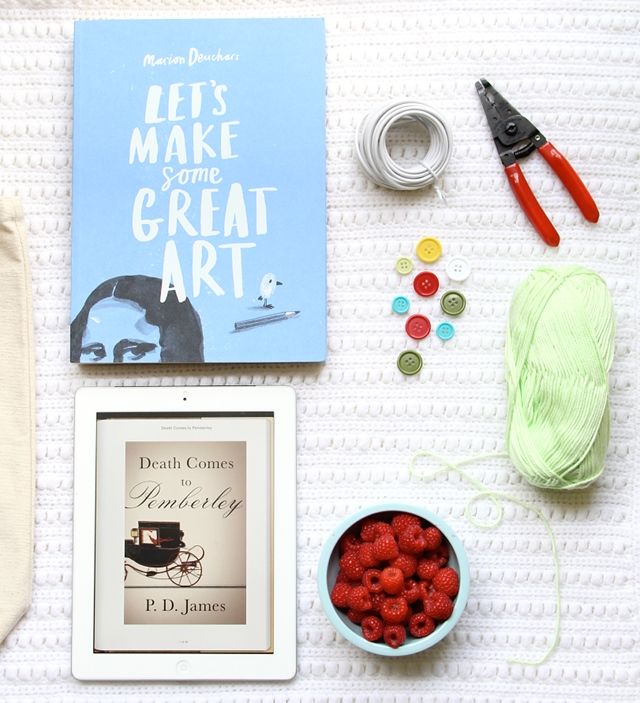 Happy Friday! This week was a whirlwind to say the least. I am pretty excited for some time to relax a little, try a new craft class, start a new book, and crochet. I need to share my patchwork blanket progress one day next week.
Anyway, here's what I have planned for the weekend...
- Tomorrow I am taking a drop spindle class at my local yarn shop! I randomly decided to sign up this week and I can't wait. This will be my first attempt at spinning yarn. I will definitely take lots of pictures and report back. Fingers crossed it goes well!
- After seeing Bri's fun video of this book, Let's Make Some Great Art, I decided to look it up on Amazon. I love to doodle and there are days when I miss my middle school art class. It was filled with sketching, shading, and lots of erasing...haha. I barely flipped through the first few pages but I can already tell it is awesome.
- I am working on some crafts and recipes for upcoming issues of Gathered!
- My photo shoot I had planned for this week was postponed to next week. No worries! Now I have a little extra time to work on a craft project that I want to use as a prop. I will share the project here on the blog when I am finished!
- I heard about Death Comes to Pemberley this week after discovering BBC is making a 3 episode mini-series based on the book. The cast looks awesome! I can't wait. However, I'm not sure what to expect from this book. I mean, Pride and Prejudice is near and dear to my heart. I know it could never compare to Jane Austen but it might be a fun read. I just downloaded the sample so I will let you know how it goes. Have you read this book before?
I hope you have a great weekend! What are you up to? Have you tried spinning yarn before? Do you have any tips for me before my class tomorrow?