What's In My Yarn Bag? with Karen Templer // Fringe Association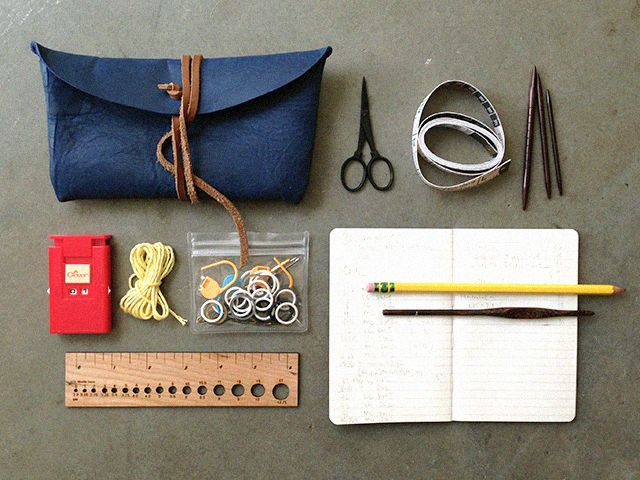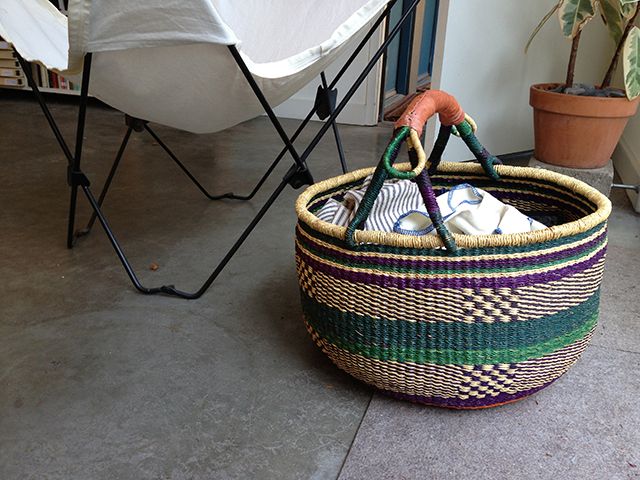 Get ready to tour another inspirational yarn bag! The lovely and talented Karen Templer, from the blog Fringe Association, is sharing the contents of her yarn stash and a few peeks at some of her current projects. I just love her leather tool pouch. Ok, take it away Karen! 
Hello, Karen! Welcome! What do you typically keep inside your yarn bag?
I keep my active projects in a Bolga basket, which sits on a tall stool against a stair rail where my pesky cats can't get to it. So it is the protector and keeper of my knitting. It's large, but really sturdy and super portable, so it's perfect. I'm a little OCD, so I like to keep each project in its own project bag (I use the ones I had made for my shop), along with corresponding spare DPNs, the ball band, the pattern and/or my notes, waste yarn ... whatever that particular project might require. Those bags are in the basket, and can be easily grabbed if I want to take just one of them with me somewhere. 
Also in the basket is my blue Stitch & Hammer leather tool pouch, which was a birthday gift from my husband last year. That holds all the basics: tape measure, stitch markers, Moleskine notebook, row counter, scissors, etc. If I do take one of the project bags with me somewhere, I toss the tool pouch in with it.  And I also have my ugly plastic pouch that holds my interchangeable needles, which are Dreamz, and actually are pretty dreamy. But I really need to find a more attractive way of storing them. Typing this, I'm realizing they might fit in one of the new, larger Stitch & Hammer pouches I just added to the shop! I'll have to try that immediately.

I try not to keep anything else in there, but often there's a stray project that still needs its ends woven in, or that I'm thinking of frogging, floating around in the bottom of the basket. All of my other circulars, DPNs and crochet hooks are kept in a big black Net-a-Porter box on a shelf. (I don't own any straight needles — they hurt my wrists.)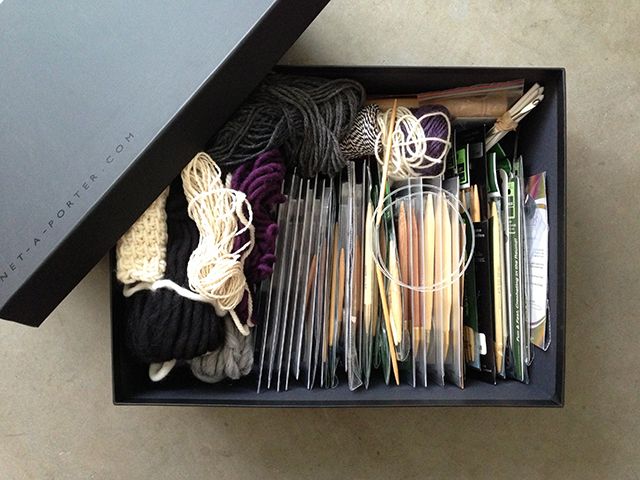 Do you know how to knit and crochet? When did you learn? How did you learn?
I do know how to do both. I learned the basics of both as a kid, but didn't really take to knitting at the time. I felt more comfortable with a crochet hook, and spent who knows how many hours making granny squares. But at some point I lost interest. After years of wanting to learn for real, I finally had a couple of friends (mother and daughter) teach me to knit while I was visiting them in Nashville in October of 2011 — so a little less than two years ago. But I fell hard and fast for it and have been knitting obsessively ever since, aided by good reference books and Knittinghelp.com. I also learned Tunisian crochet last year, and really love it — so therapeutic. I almost never crochet but would really like to make more time for it.
I'm a fickle knitter — starting and stopping things on a whim way too often. And I also try to have something challenging and something *not* challenging on the needles at any given time. The latter being necessary for situations where I can't or don't want to concentrate on a complex chart or whatever. But then the mindless ones wind up taking a lot of time away from the more interesting ones. For example, I am knitting a really fabulous cardigan that I've been working on, off and on (mostly off), for many months. It's an Amy Christoffers pattern called Acer, cables and lace, and it is a ton of fun to knit, despite the fact that I don't normally enjoy long rows of back-and-forth knitting. I totally love knitting this. But I just rarely have the attention span for it, and reach for the little mindless stuff instead, like the orange hat I'm currently knitting. Hopefully my desire to wear the cardigan this fall will win out over my inattention.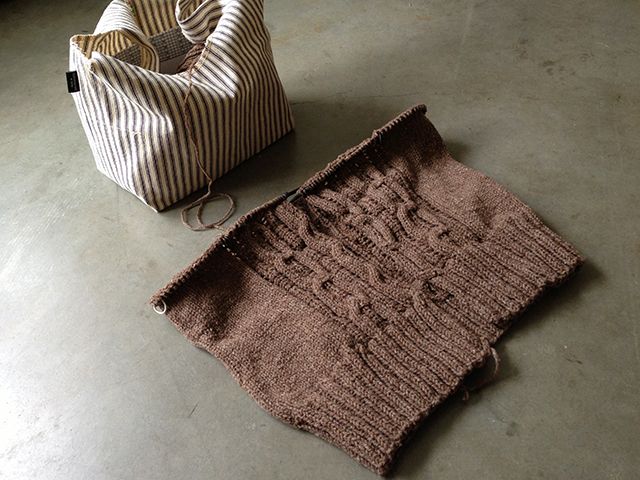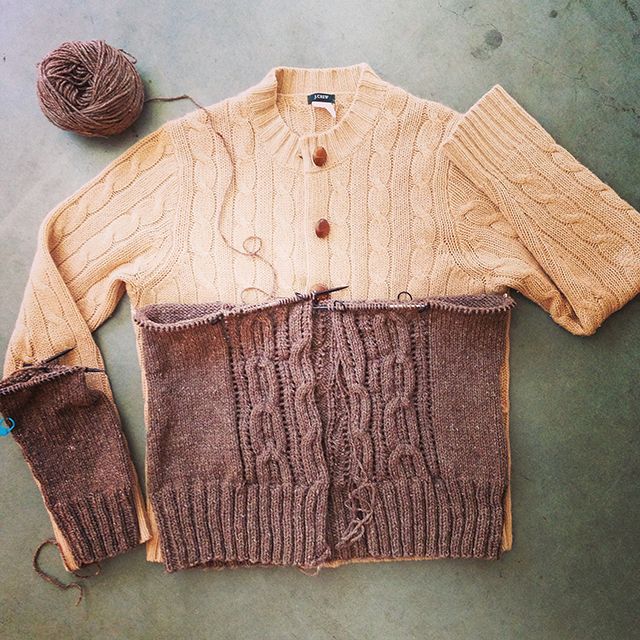 What is your favorite knit/crochet item that you have made so far?
If I ever finish that cardigan, it will be my proudest moment. But the thing I *enjoy* knitting the most is fingerless mitts. They're comfort knitting to me: quick, satisfying, fun to experiment with, and endlessly useful where I live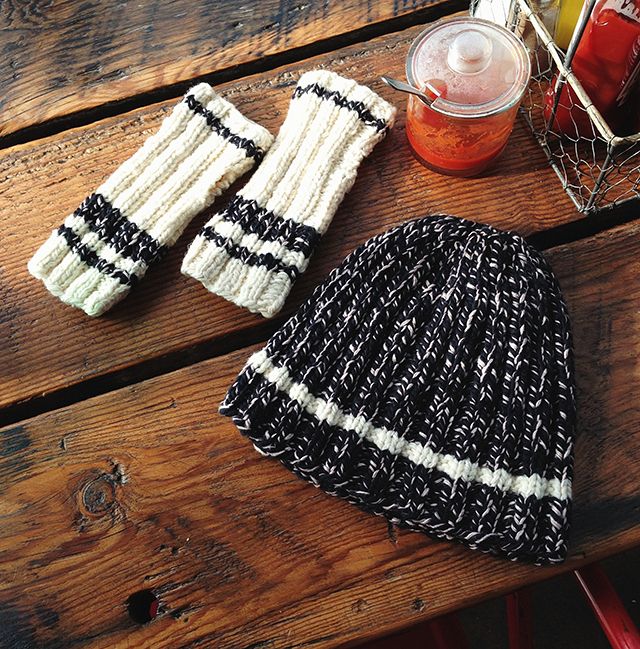 Do you like to carry your yarn bag with you to work on your projects in public? Where do you feel most comfortable knitting/crocheting?
I knit on planes, although I do feel a little self-conscious knitting in public. But I actually don't get out much. I live above my studio, so there's no time for knitting on my commute. 
Almost all of my knitting gets done very late at night, cross-legged, on my couch — the last thing I do before bed. But my actual *favorite* place to knit is at my friend Leigh Wells' studio on a sunny late afternoon with all the doors open and random neighbors stopping by. We call it "knitting on grandma's porch," for some reason. It's wonderful to have friends to knit with — a totally new experience for me.

What do you love most about yarn?
Even as a kid, I loved the potential in a ball of yarn — that it could lead to a game of cat's cradle or a god's eye or a granny square or whatever I might dream up. I'm also an intensely visual and tactile person, and good yarn is an incredible pleasure unto itself. But I've spent a lot of my career working in web design and technology — working with pixels, spending untold numbers of hours making things that don't actually exist in any tangible sense. So to be able to sit down with a bunch of string and turn it into something you dreamed up, that you can touch and wear, that keeps you warm, is just a remarkably rewarding use of time.
Thank you so much for sharing, Karen! Your yarn bag is lovely. 
Also, thank you everyone for your kind words about my book announcement yesterday! I am so excited about it and all of the other exciting things coming up here on the blog! :)
I hope you are having a great week so far!