Lessons Learned From My First Estate Sale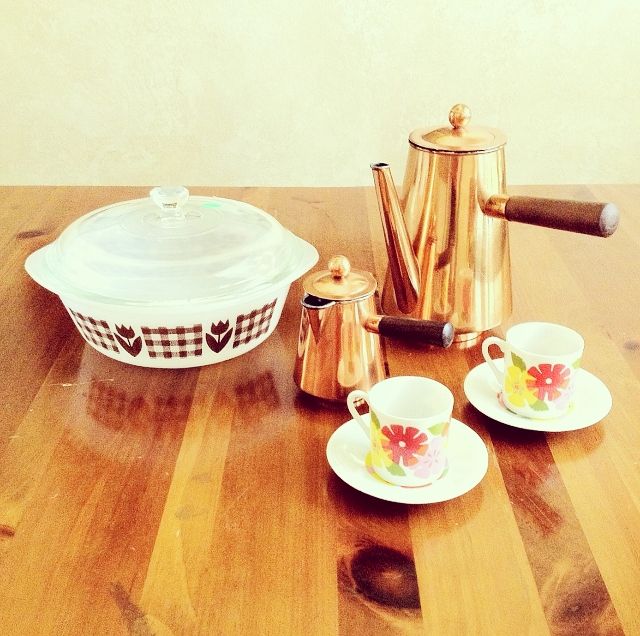 After
finally 
making my first successful
thrift store find
last week, I managed to gain the courage to take the next step in my hunt for thrifty treasure: estate sales. Thanks to your helpful comments I realized that estate sales, especially in the Dallas area, are where I will probably find the best finds. So I started searching
this site
 to check out what estate sales were happening in my area. Shock of all shocks there was a pretty sweet looking sale just down the road from where I work out in the mornings. Friday morning my mom and I set out to conquer our first estate sale with
little
no planning ahead of time. I expected to walk in, see maybe one decent cup or plate, and leave empty handed. When we got there at 9:30 a.m. (the sale opened at 9:00) cars lined the street and people were going in and out of the house. I had no idea it would be that crowded so early! 
Lesson One: Get to the sale early. Maybe I missed something really awesome in the first 30 minutes. I guess I'll never know...haha. 
My mom and I split up when we got inside to cover more ground. The house was really small but knick knacks lined every shelf and surface. I found this cute Glasbake dish (not Pyrex, but still awesome!) in the kitchen and nearly broke it I grabbed it so hard. I'm still getting used to the "vintage high". Haha. 
Lesson Two: Calm down. Don't almost brake awesome tulip covered dishes out of excitement! What good would that do? ;)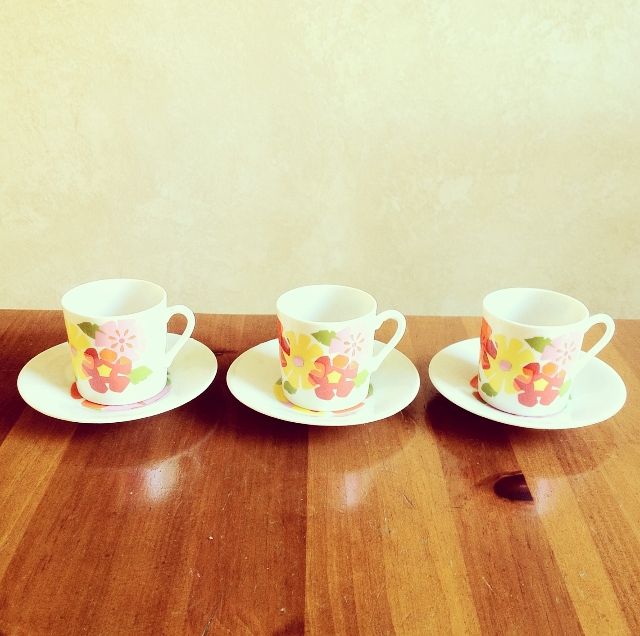 After finding the dish I turned around to see these flower cups all in a row behind me. I started looking them over, one arm still clutching the tulip dish, when one of the sellers asked me if I wanted a bag for the cups. I wasn't sure if I wanted them yet but I said ok and she started placing them in a plastic bag. Thankfully I did want the cups but I didn't really speak up when I should have said, "Not yet, I'm still thinking about it, thank you!"
Lesson Three: Speak up! I never want to walk out with something I don't love 100%.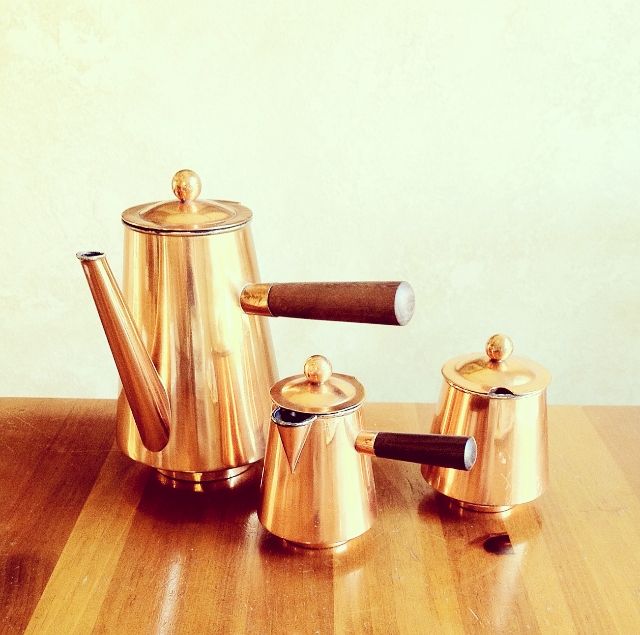 With my arms practically full, I made my way through the rooms. One room was dedicated entirely to Christmas decorations and Christmas related dolls, giving me the heebie-jeebies and resulting in a quick exit. The garage had piles of great stuff including this beautiful copper coffee set. I saw it tucked away in a corner and I knew who was taking it home. But guess what? I didn't have any hands left to pick it up! So I just stood there hovering with my hands full of cups and dishes wishing for some sort of device that held things...oh yeah...a bag.
Lesson Four: Bring a bag!! I even saw this tip on several of vintage shopping posts. Sheesh. Thankfully my mom came out to the garage with her hands full of her own treasures, laughed at me guarding my copper coffee pot, and came back to help me.
All in all it was a great experience. Now that I have my first estate sale under my belt I am ready to tackle another. It really is a lot of fun!
Have you been to an estate sale before? What happened on your first trip?