Weekend Plans 7/20 - 7/22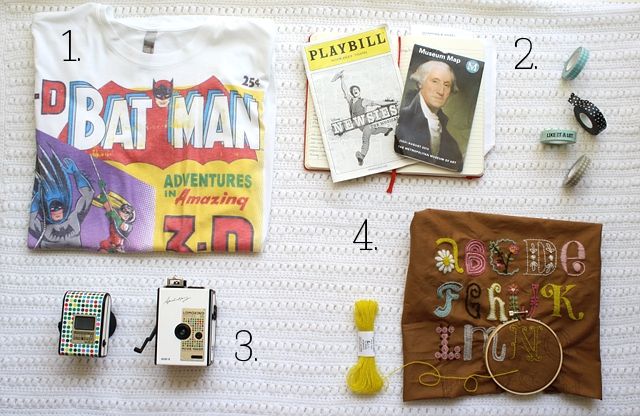 Happy weekend! I wanted to post this yesterday but I needed a little break from the internet while I started catching up on everything I missed during my time in NYC this week. I still have a few things to finish up, but I am ready to enjoy some fun, crafty things this weekend!
1. Batman is my favorite superhero. Yes, this is further confirmation that I am a gigantic nerd, I know. It's ok. I'm cool with it. I am really excited to see The Dark Knight Rises because the last film, The Dark Knight, is one of my favorite movies of all time! I'm sure this one will be pretty amazing. I was heartbroken when I heard about the shooting in Colorado on Friday. I am praying for the victims, families, and loved ones involved in this terrible tragedy.
2. I need to catch up on my New York journal entries! I was having way to much fun running around with Danielle to stop and write it down! I need to get it down quick before I forget our adventures.
3. While in New York, we went to the Lomography store and drooled over all of the amazing film cameras. I was particularly in awe of the LomoKino. This little beauty makes short films with 35mm film and I am SO excited to try it out. I think I did a happy dance in the store when I saw this one. I mean, it is probably the coolest thing ever.
4. Lastly, I am going to keep working on my ABC sampler because I am addicted. It is just so much fun seeing each letter come together!
Well, that's it! Actually, I still have to unpack a little. If I don't do it now I will have an open suitcase filled with clothes on my floor, staring at me all week. Haha.
I hope you all have a wonderful weekend! What are you up to?