DallasMADE - Interview with Bee Things
I am extremely excited to introduce my first DallasMADE, local artist interview with Shay Ometz, one half of the dynamic duo that is
Bee Things
. I've spotted their colorful screen printed artwork all around town, including on my recent trip to We Are 1976. Enjoy getting to know the inspirations behind their beautiful work. 
Could you introduce yourself and tell us a little bit about how Bee Things began?
my name is shay ometz and my husband is jeff barfoot. we have two little boys, calder and milo, and two weenie dogs, bumper and juno. we bought a wonderful mid-century modern home 5 years ago and there was an unfinished shed in the backyard. we decided to finish it out and make it a screen printing studio. we both took etching in college and figured we could figure screen printing out on our own and we did! 
my nickname is bee and i have tons of different collections. jeff coined these collections bee things :) 
I know this is sometimes a difficult question to answer, but what inspires your work? I notice birds and butterflies frequent your art pieces, so would it be right to assume that you like nature?
we are inspired by everything! but especially nature. when we started bee things we wanted to focus on kid themes like dinosaurs, birds, animals, sea creatures, monkeys etc. we even wanted them to be educational so our first 5 birds have the name printed under the illustration. after 26 or so bird prints we finally decided to give butterflies a try! and our illustrations are as likely to end up in a kitchen as a kids' room.
another huge inspiration is mid-century modern. we love everything from that era: the colors, furniture, design etc. 
paul rand, charles and ray eames, alvin lustig and charley harper are all amazing.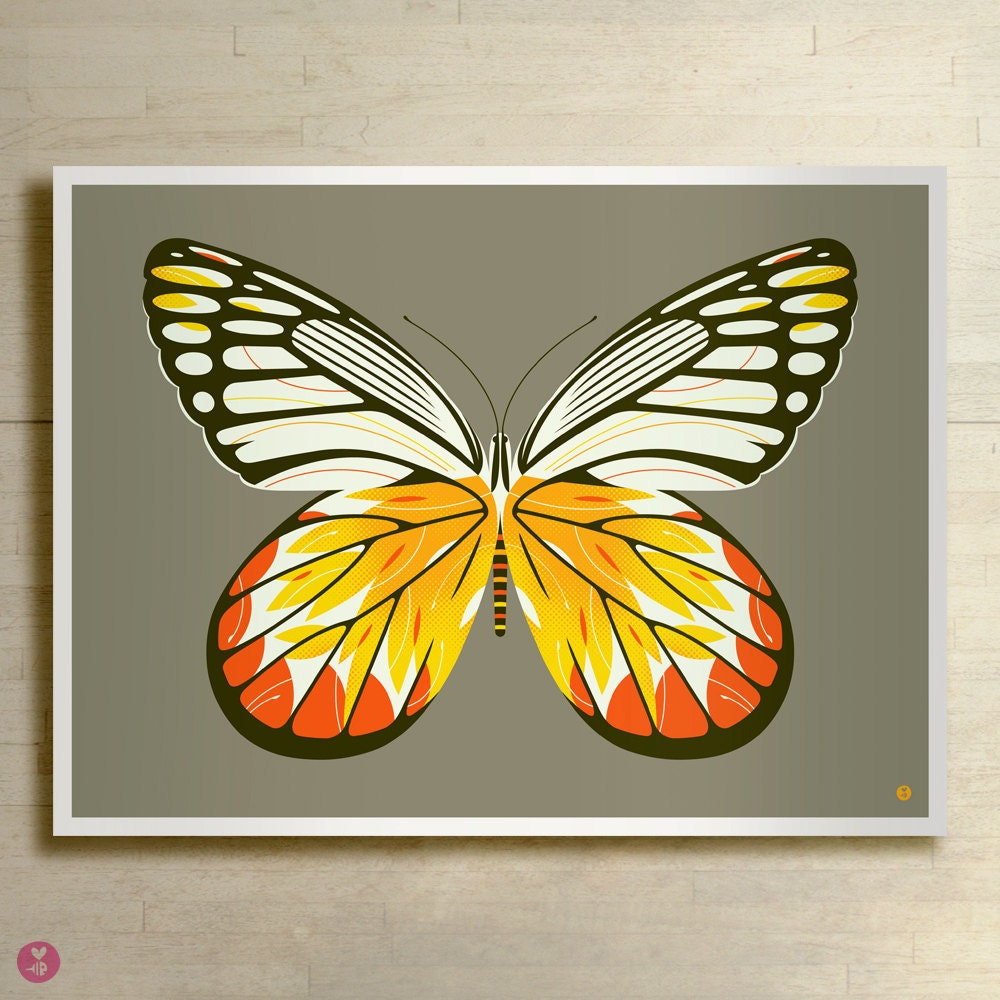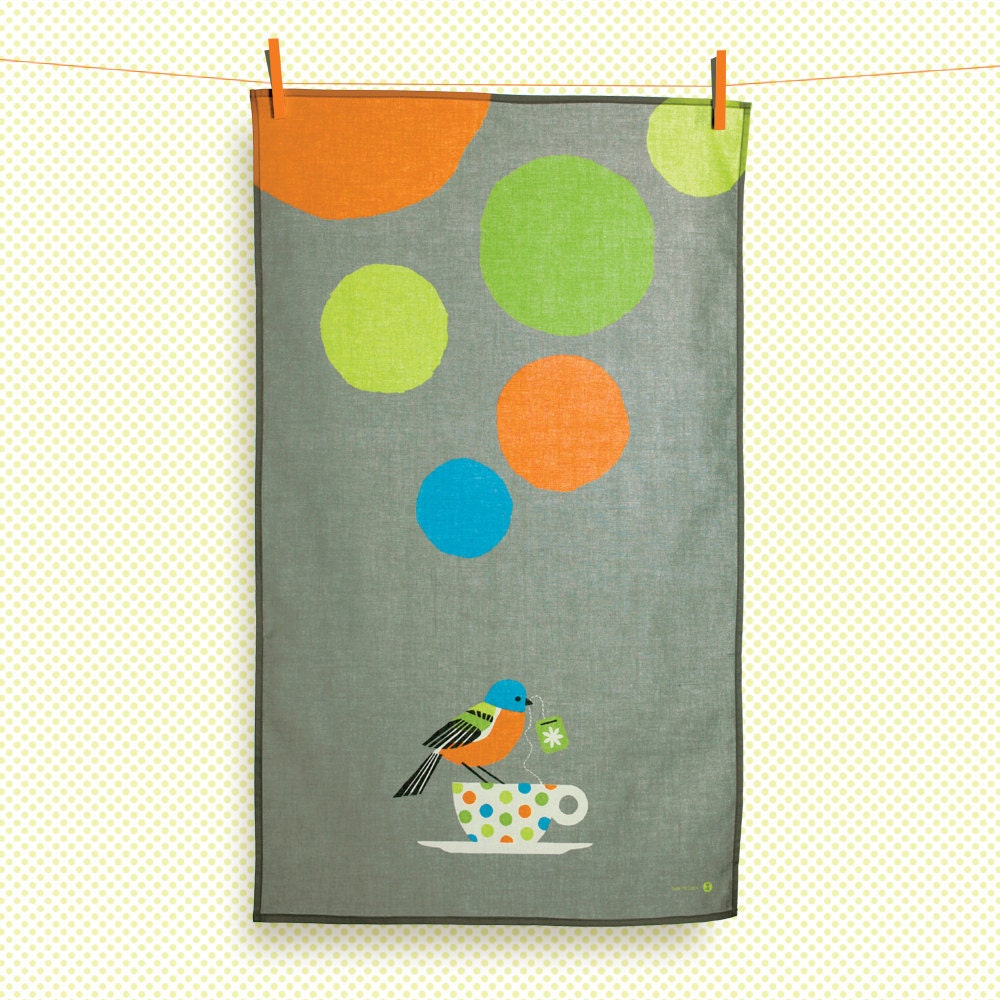 Are you originally from Texas? If so/not, why did you decide to set up your studio in Dallas? What is it like working and creating in this city? 
i am originally from texas and jeff is from arizona. jeff moved here to work for a small design studio in 1999 and really likes the area. i struggled with staying here, but after a couple of years of germany decided that texas is my home. my mom is an artist so i was exposed to all the art happenings and studios around town. but it's crazy how much the city has exploded the past 5-10 years. there is a great group of artists, crafters and designers that we're so happy to belong to. 
my only complaint is the heat :) even our little AC unit in the studio can't keep it cool enough to do much work. it's discouraging to only get one or two hours in the evening to print. when we win the lotto we hope to build on an art studio to our house. 
A rare, snowy day in Dallas. No AC required! ;-)
What is your favorite part of the Dallas art and handmade community?
jeff and i love that dallas' art and handmade community is relatively small and accessible. etsy dallas is an amazing addition to the city and we have been so lucky to be a part of it. the jingle bash and spring bash are my favorite shows of the year.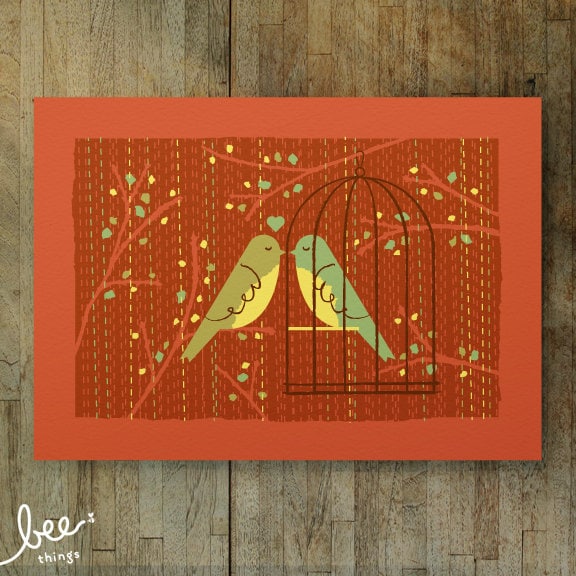 Name your three favorite Dallas-based artists, handmade shops, or blogs. 
jeff and i looove We Are 1976, little bean, styleswoon and lilco. there are so many great artists it's hard to only name a few!
Thank you so much Shay for welcoming us into your beautiful studio! I hope everyone enjoyed getting to know another inspiring Dallas artist. Like Shay said, there are so many in this city! :-)
All images courtesy of Bee Things