CLOSED - Camellia Fiber Company - Marigold Dyed Yarn + Giveaway
Get ready for probably the coolest blog post about dyeing yarn ever. Please welcome Rebekka Seale and her new yarn shop, Camellia Fiber Company! I only have three words to describe what you are about to see...Marigold. Dyed. Yarn. Enjoy! :)
Hello Rebekka! It is so nice to have you back. We loved looking through your beautiful yarn basket last year. Now you are starting up your own hand-dyed yarn shop! So exciting! Tell us a little bit about your new business and how it got started.
Thank you! I have been dyeing yarn for personal projects here and there for a while now, but I really dove into it this past spring. I had been having some back pain from my normal work (as an illustrator), and was looking for a project that would let me be up and out of my desk! It became an instant obsession, and I was dyeing so much yarn that I couldn't afford not to sell it! 
What is your process for dyeing the yarns? What kind of materials do you use? 
I like working with natural plant and mineral-based dyes. I use a variety of dyestuffs, both harvested and purchased. Some of my favorite dye materials (so far!) have been brazil wood chips, copper, madder root, avocado pits, and these marigold petals!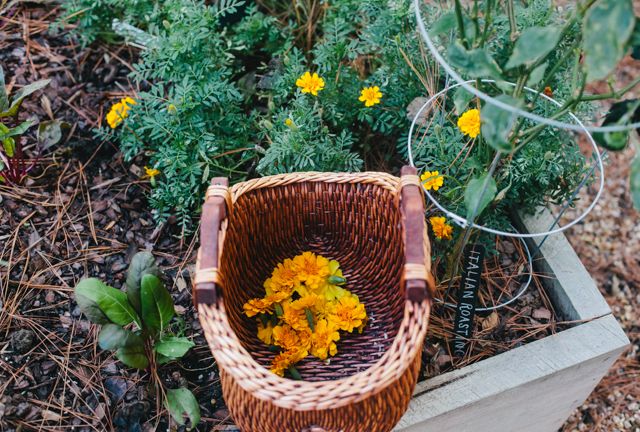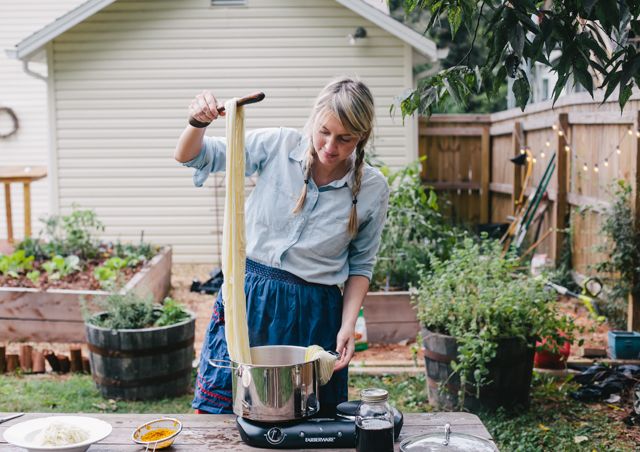 My first dyeing experience was with regular acid dyes, and it was, quite honestly, a mess! For some reason, I have had much better luck with the plant dyes. My first natural dye project was with madder root and walnut shells, and I just fell in love with the depth of  color I was able to 

achieve. Natural color is complex, mysterious even…it changes so much in different types of light. Sometimes, it almost seems to shimmer!
You also dye fabrics and other materials. Tell us about this marigold dyeing project! So interesting! 
This is my first project using dyestuffs that I grew myself. At the beginning of the summer, we planted lots of marigolds in our raised beds to keep bugs away from the tomatoes. Over the past few weeks, they have started to really bloom like crazy! I cut off all the petals and poured hot water over them, like tea. I let them steep overnight, and then the next day I simmered them slowly for about an hour.  I strained out the petals and added the yarn (which I had pre-mordanted so the color would adhere). Honestly, I was shocked at how sunny and golden it turned out

…it took the color almost instantly. I really like tone and color variegations in my yarn, so I dip-dyed it for different shades of gold. 
What patterns do you plan to use during the fall and winter season with your beautiful dyed yarns? 
I have been knitting the Giftie Slouchy Beanie (free on Ravelry) with all the bulky yarn from my shop. I absolutely adore that pattern, it knits up so quickly and has the perfect amount of slouch. And I'm really looking forward to knitting the sweatshirt sweater pattern from Purl Soho, in one of my neutral tones. It looks so cozy! 
Tell us a little bit more about the yarns in your shop. 
Right now am offering my hand-dyed yarns in merino worsted and merino bulky weights. I am also working on stocking a lovely merino wool and bamboo sock blend, as well as a DK weight tweed. Last weekend, I met with an alpaca farmer about 30 miles outside of Nashville, and I'm looking forward to carrying some soft, local alpaca yarn soon! 
Thank you so much Rebekka! Isn't that yarn color GORGEOUS? I am in love. Guess what? Rebekka is kindly offering one reader a skein of Marigold yarn from her shop!
This giveaway is open to international readers. Here's how you can enter to win..
1. Visit Camellia Fiber Company. Come back here and leave a comment telling me about your favorite yarn from the shop. Please include your email address so I can contact you if you win! 
That's it! This giveaway will end on October 9th. I will announce the winner here on this post the following day. Good luck! 
I hope you are all having the greatest week. 
UPDATE: Congratulations Tori! You won the skein of marigold yarn from Camellia Fiber Company! I will contact you soon with the details. Thank you to everyone who entered!