Weekend Plans 8/23 - 8/25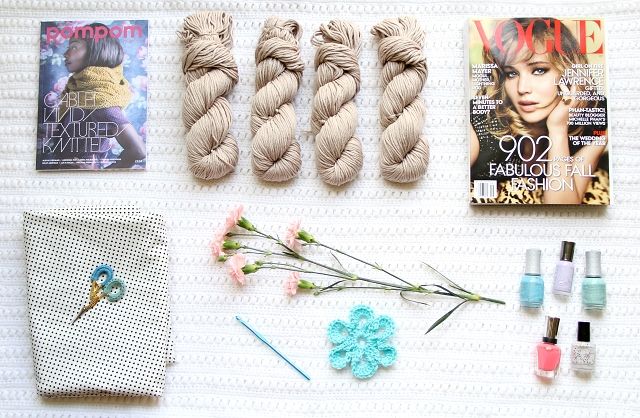 Happy Friday to you! This week was crazy and a few unexpected things popped up that kept me from posting the details about the upcoming "Sheepish Bloom Drop" group yarn bomb! No worries. It just means I have a little more time to get everything together over the weekend. Would you want to go ahead and do the yarn bomb next weekend or should we wait and do it the weekend after that? I want to make sure there is enough time for everyone to make a yarn/floral creation!
Here's what I have planned this weekend...
- I received my first ever issue of Pom Pom Quarterly in the mail yesterday. Geez louise it is gorgeous. I am so excited to flip through the beautiful patterns. Pom Pom is one of my sponsors this month too! Be on the look out for a Pom Pom Issue 6 giveaway next week!
- A box of new yarn arrived yesterday too! It is for another fun project I have in the works. Time to get knitting!
- I can't resist the September issue of Vogue. Yes, it is 800 pages of ads, but I am always inspired by the beautiful editorials. Jennifer Lawrence is pretty awesome too.
- A few yards of polka-dot fabric for yet another project. Really excited about this one!
- I will finish up the plans for the Sheepish Bloom Drop next week. I really want to incorporate real flowers, knit flowers, crochet flowers, paper flowers...you get the idea. Even if you don't know how to knit or crochet, you should definitely participate. It will be a fun way to brighten up your town!
- My friends and I are having a slumber party this weekend. Hmm...I haven't said that since I was in high school. Haha. You are never too old for a girls night, right? It should be fun! I am always down for painting nails and watching funny movies.
That's about it! What are you up to this weekend? How are your projects coming along?