What's In My Yarn Bag? with Tara-Lynn from Good Night, Day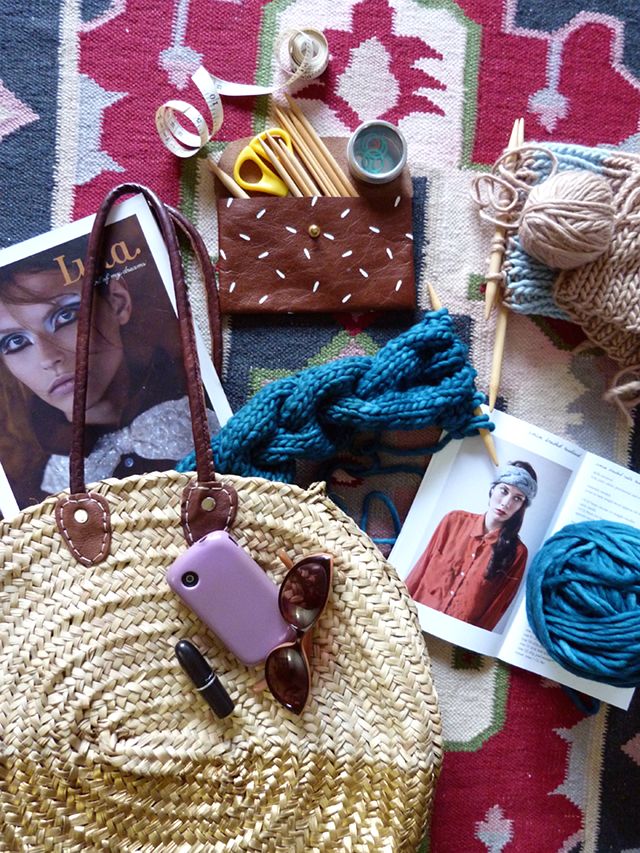 Today I am happy to introduce an incredibly talented knitwear designer and fiber-fanatic from Canada, Tara-Lynn and her beautiful shop 
Good Night, Day
. She uses fair-trade sourced alpaca, merino, and cashmere blends to create her modern handknit designs. I am so excited to take this peek inside her project bag and learn more about her creative process.
What do you typically keep in your yarn bag? 

Although I am mostly knitting indoors, at my home, which doubles as my work studio, I actually prefer to knit outdoors when weather allows. Now that it is finally spring in Canada, & close to summer, I tend to use this enormous straw purse, that works especially well 
storing more than just knitting project or order, ie cell phone, sunglasses, lipstick & a magazine (usually a book too). So, along with the actual knit items, (always I have more 
than one 
knitting
 project on the go), I also carry my own copy of the knitting booklet, (I have a pretty awful memory at times), & I use this falconwright clutch that works well to hold scissors, dpn's, measuring tape & stitch markers tucked into a tea tin.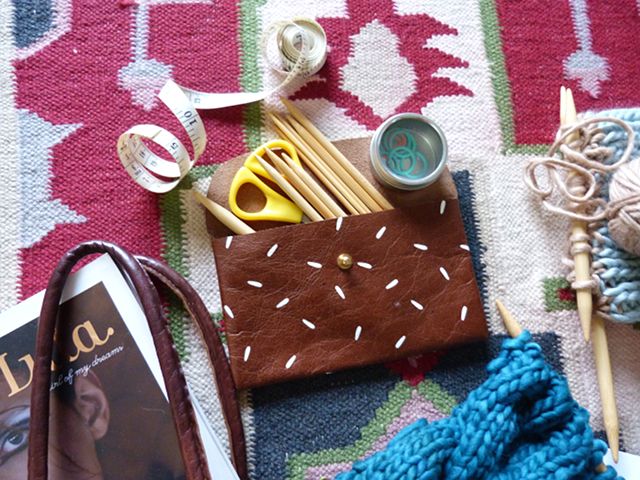 When did you start knitting? How did you learn?
I am a self-taught knitter, so I spent many hours pouring over library books & youtube tutorials, until it finally stuck. 
I also taught myself to design my own patterns, because I wasn't always fond of the fussy patterns out there, & started  using skills I was discovering that made knitting easier, less time consuming, like seamless knitting. I've been knitting for under a decade now.
Are you working on any fun projects? We want to see! 
I've begun to work on even more DIY inspired projects, like adding the custom hand crafted extra large circular 
knitting needles I use to the shop & even the fair trade south american sourced wool.  It's been thrilling to share 
what
 i know, 
rather than hoarding my patterns & supplies. I just printed my fifth edition of the 
good night day: modern & minimalist knitting patterns
booklet, I do everything involved in the making of the book & then have it printed locally. So now i am in the works of doing the
second knitting booklet, which will include the kingston sweater, which has been the most requested of my items to have in 
pattern form, & even new items from my most recent f/w 13 collection, like the
petawawa toque
(which is offered as part of a knitting kit already).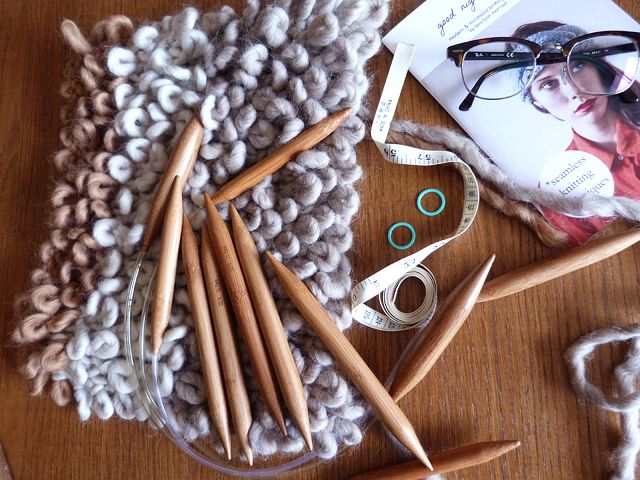 What is your favorite knit creation that you've ever made?
I'm really proud of the perth cardigan, I've wanted to design this forever & have it available as hand knit item in the shop. 
However, my favorite items to knit are quick, because i am impatient & the reward is pretty instant to see, so my knits like the 
simcoe cable headband
or the 
markham loop collar
do the trick, love doing cables & loop stitches, also the wool used is ultra soft to knit with.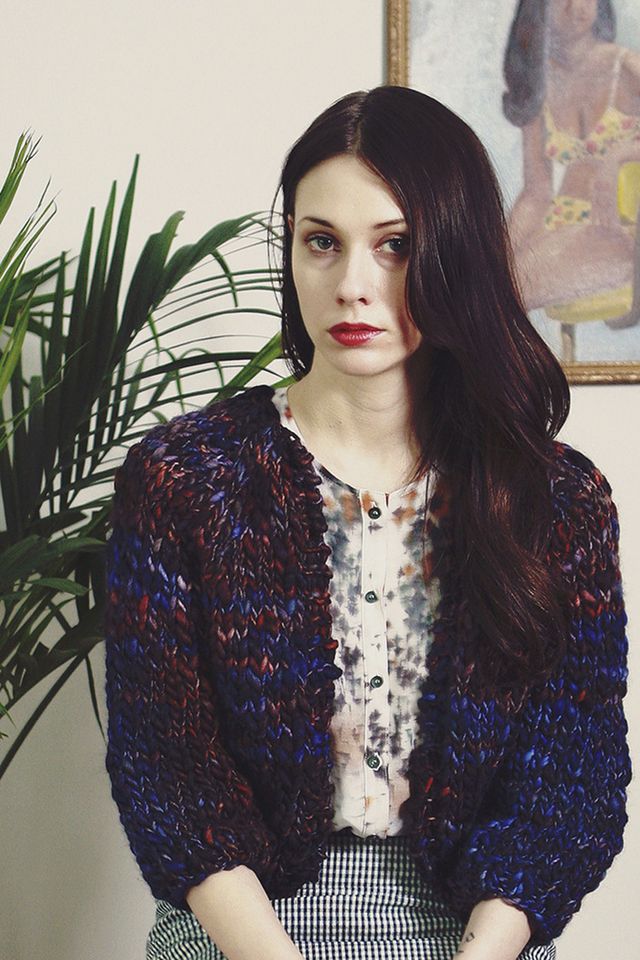 Do you like to carry your yarn bag with you and work on your crochet projects in public? Where do you feel most comfortable knitting and crocheting?
I've probably knit everywhere you can imagine, for two reasons because I am addicted to knitting and I have orders to fill /or inventory. 
Obviously, it is most comfortable at home, on my couch, with my
cat, while watching tv, I have a weakness for documentaries & period dramas. But I am always prepared to knit anywhere.

What is your favorite part about knitting? 
In the beginning knitting was a creative outlet, that also was a comfort to me, as I am an anxious sort of person. I hope that knitting can continue to also help me further financially support myself & my family, which feels really empowering if I can make it work out. I have just so many more ideas i want to design, knit & share.
Thank you so much for sharing! Your knitwear designs are gorgeous and inspiring.
I hope you enjoyed getting to know Tara-Lynn!