"What's In My Yarn Bag?" with Studio Meez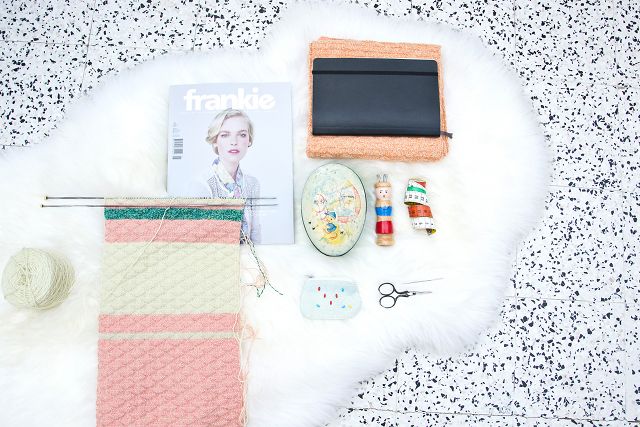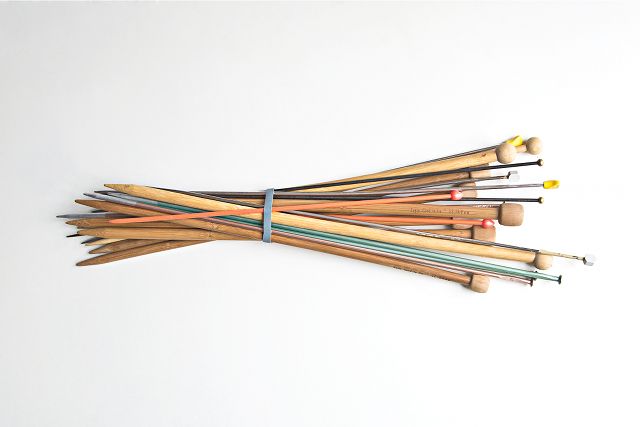 For this month's
"What's In My Yarn Bag?"
interview I am happy to introduce the lovely lady behind the
blog
and
shop
Studio Meez. Her unique photography and knitted creations are simply beautiful. I love getting this peek inside her organized yarn bag and learning more about her love of knitting. I hope you enjoy it too! 
What do you typically keep in your yarn bag? 
My knitting bag/basket is always stuffed with too many items I carry along with me. It is filled with all the yarn I need for the project I'm working on, small scissors, a measuring tape, a darning needle, my favorite tin box where I keep small bits and bobs, my agenda with my notes and ideas, something to read for when I want to take a break from all the knitting and a finished scarf for when I'm cold.
Are you working on any fun projects or new items for your shop at the moment? 
Almost a year ago I bought a knitting machine which I'm still learning how to use and although I mostly knit with this machine, I still find much joy and pleasure in my knitting needles as well. At this moment I'm working on a new triangle patterned scarf and maybe it will turn out in a small handmade collection. No promises yet, since it's such a time consuming thing to do but I love impossible projects. Hopefully by the end of 2013 or a lot sooner there will be a tiny collection of old fashion knitted scarfs in my shop. Every scarf has to be unique in its own colors and knitted in this lovely triangle pattern which I'm obsessed with.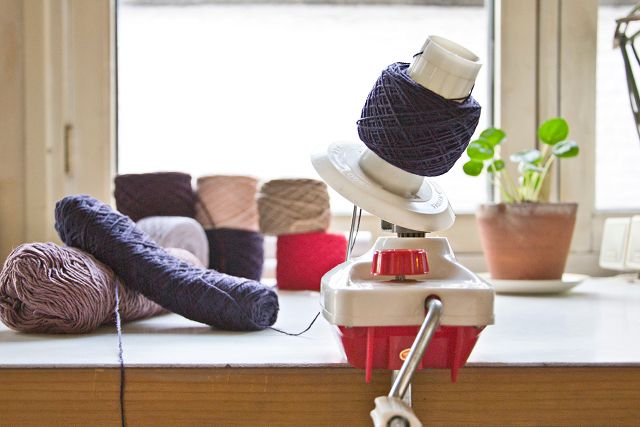 What is your favorite knit creation that you've ever made?
I have to admit that I'm not a good knitter and most creations I make consist of a knit or purl stitch. Since knitting with needles is something I do to take a break and to relax, I don't try out difficult patterns. Like I said before I'm completely hooked on this triangle pattern which gives an extra dimension to a knitted piece that I love, so my favorite creation has to be the scarf I'm working on at this moment. It is knitted in a mix of fine merino and mohair wool and has the most beautiful colors. Recently I discovered the Beekeepers quilt from Tiny Owl Knits and I'm very excited to get started with it! I have a huge stash of wool leftovers that is waiting to be used and this is the perfect project for it!

Do you like to carry your yarn bag with you and work on your knit/crochet projects in public? Where do you feel most comfortable knitting?
Mostly you can find me knitting in my favorite chair near the window or while watching a good movie. Whenever I take long train rides I have to take my knitting work with me so I can do something useful while waiting and family and friends are also used to seeing me knit everywhere.

What is your favorite part about yarn crafting?
Knitting is something that calms me down after a busy working day. It is relaxing and soothes my nerves. But my favorite part has to be that I still find it fascinating, creating pretty much anything you have in mind with just a ball of wool and two sticks. I love the feeling I get when I finish a project and see the finished result knowing that my hands created every stitch. It is fun to show off your new scarf and know that it is something you made with much love and joy.


Thank you so much for sharing! I love the triangle pattern on your knitted scarves too. I can't wait to see your finished collection. 


I hope everyone is having a great week so far! Are you still working on any knit gifts for next week? I think I am finally finished! Only five days until Christmas! :)