Fall Inspiration Around the House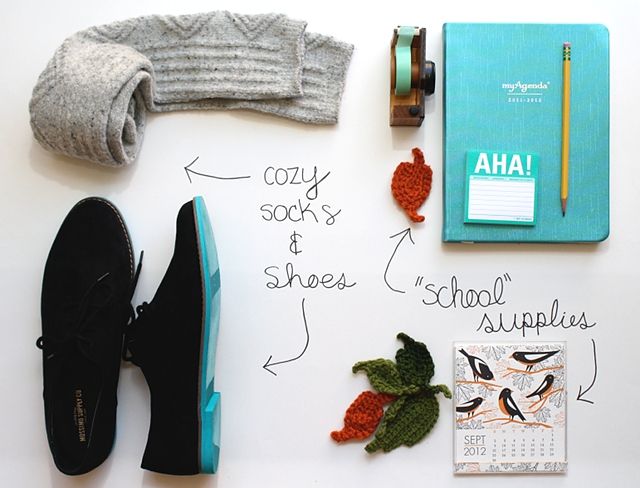 Now that September has arrived I, like most yarn crafters and general sweater loving people, could not be more excited about the autumn months ahead! Summer is great and all, but four months without sweaters or hot tea is somewhat painful. Recently I have been jotting down a few fun project ideas for the fall. I decided to search for some autumn inspiration around my own room and make a 3D "Pinterest" board. Haha. I am such a visual person and collages like this always give a boost to my creativity. I just really like the look of things grouped together.
I found a surprising amount of fall inspiration during my scavenger hunt around the house and a dig through my yarn stash.
- I bought myself a new cozy sweater to add to my collection thanks to Erin's pop-up shop. I love the collar and the embroidered flowers. It gives me ideas on how I could dress up a plain sweater, or scarf, and make it my own.
- Since the leaves are still green and holding on tight to the trees outside my window, I decided to crochet a handful of my own leaves in autumnal colors. I'm still brainstorming ideas for these soft leaves...the possibilities are endless!
- I'm ready for hot tea, socks and shoes other than flip flops. A nice walk on a crisp day is always inspiring!
- Even though I am no longer a student and school supplies are a thing of the past, I need to stay organized now more than ever! I'm already filling up my many notebooks, planners, and sticky notes with ideas and deadlines.
Fall is such a beautiful season. I can't wait to fill it will new crafts, adventures and memories! Unfortunately the only signs of fall right now are the crochet leaves scattered around my room.
What is your favorite part of fall? The crafts? The clothes? All of the above, right? :)